Play & Learn: Creative Children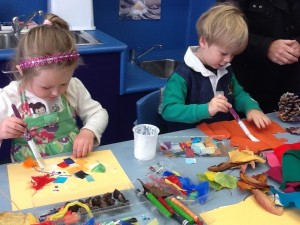 Play and Learn: Creative Children is for birth to 4 year olds who have not yet begun Kindergarten.  This is an opportunity for young children to begin to develop their confidence and curiosity as learners prior to commencing Kindergarten in a safe and secure environment with their parents/carers beside them.
At Play and Learn: Creative Children, the Kinder staff, parents/carers and children all play, explore and learn alongside each other. Children will have fun participating in a variety of experiences including art, painting, drawing with various media, play dough, puzzles, sharing books, construction, toys, role play and outside play. All of these activities help to develop the children's talking, reading, creativity, physical, social and emotional skills.
Play and Learn: Creative Children also gives parents/carers valuable learning time with their children, a time to talk to other parents/carers and school staff, learn about the School and the importance of positive relationships between home and school.
Play and Learn: Creative Children is conducted in Ballygriffin House (the white house next to the church).    It is held every Tuesday from 9.30am to 10.30am commencing the 3rd week of Term 1 and the second week of Terms 2 to 4.
All participants are asked to abide by the School's Sun Protection Policy (link to Policy) and to bring a drink (preferably water).   Participating children require an art smock or a change of clothes.
If you are planning to attend our Play and Learn: Creative Children sessions with your child/children, a registration form is to be completed and either returned to the school via email or by handing to the Play and Learn: Creative Children Co-ordinator the first session. A Registration Form is available here, or by calling the School Office on 6244 7288.Further information about Play and Learn: Creative Children is available here.
Before attending Play and Learn: Creative Children sessions, you are asked to read the Safety Information Brochure for Visitors.  The brochure is available here.
Office staff will also assist with any queries you may have.
Please be aware that participation in this program does not guarantee future enrolment at Corpus Christi Catholic School.