Religious Education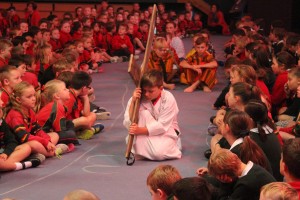 Participation in our school's Religious Education program allows our students to grow in knowledge, skills and develop attitudes that will prepare their hearts and minds to enter into a life long relationship with God.
Our school follows the Tasmanian Catholic Education Good News for Living Curriculum (GNFL). It has been recently refreshed to align with the language and frameworks of the Australian Curriculum. In Religious Education, the core focus is the teachings and examples of Jesus Christ. Our program is classroom based and provides systematic and comprehensive experiences organised through eight integrated theological elements: God, Jesus, Church, Scripture, Sacraments, Prayer, Christian Life and Religion and Society.
In addition to the formal classroom curriculum, students attend Teaching Team and School Masses and liturgies; they also prepare and participate in daily classroom prayer.

Religious Education - Good News for Living (4.6 MiB)