Setup for Success: Birth to Five Program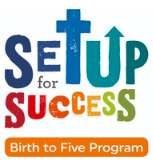 What is Setup for Success?
Setup for Success is an initiative of the Tasmanian Catholic Education Office. It is a free early years program promoting learning for life for both young children and their families. This program is open to all families within the community who have a child between birth and five years.
At Corpus Christi Catholic School
Our Setup for Success coordinators are Mrs Anna Hogarth (Monday) and Mrs Kate Berry (Thursday). Our coordinators develop tailored programs to meet the needs of children and families within our local Eastern Shore community, inspired by Christian values. Parents attend Setup for Success alongside their children in a welcoming and inspiring environment designed to promote development across all learning areas.
Sessions
Corpus Christi Catholic School run 2 sessions of Setup for Success, in the library, each week:
Monday 8:30am - 10:00am with Mrs Anna Hogarth
Thursday 8:30am - 10:00am with Mrs Kate Berry
Program
Our program is designed to meet the needs of our local children and families. During each session, our staff, parents/carers and children all play, explore and learn alongside each other. Children have fun participating in a variety of experiences including art & craft, dramatic play, sensory play, construction, toys, puzzles, sharing of books and outdoor play.
Each session includes:
- Time for children to choose activities to participate in with their carer
- Group story & songs time
- Outside time
- Packing up
- Communication about the learning that is on offer and why it is important for children's development, and resources to assist families to continue to support their children's learning in their home settings.
We gather as a group to give thanks and share morning tea. We provide whole pieces of fruit. Please bring your child's drink bottle (water preferred). If you choose to bring alternative snacks, please be aware we are nut and egg aware. On colder days, please bring a coat - we spend time outside every session.
All participants are asked to abide by the School's Sun Protection Policy (link to Policy)
If you are planning to attend our Setup for Success sessions with your child/children,  please register for Setup for Success on the following Google Form link:  here, at the sign-in table on the day or with the School Office on 6244 7288. Further information about Setup for Success is available here.
Before attending Setup for Success sessions, you are asked to read the Safety Information Brochure for Visitors.  The brochure is available here. Office staff will also assist with any queries you may have.
Please be aware that participation in this program does not guarantee future enrolment at Corpus Christi Catholic School.